• •
Each frame has been master crafted by hand. Meticulously designed to suit all face shapes and sizes all frames are unisex and come in range of colours. The finest Japanese titanium and acetates that the world has to offer. we only offer premium quality with direct to consumer prices. 
Japanese Master Craftsmanship
When it comes to hand made optical frames, there are not a few capable of supreme quality while being regarded as national living treasure in Japan. The small town of Sabae may be modest however is home to the best crafstmen in the world who have been producing 95% of all made in japan eyewer for the past century. It requires a few decades of hand made experience to achieve such esteemed honour of master craftsman. The term Monodzukuri, literally means 'production' or 'making of things' in Japanese and is the Japanese term for 'manufacturing'. The broader meaning encompasses a synthesis of technological prowess, know-how and spirit of Japan's manufacturing practices. This is a unique philosophy rather than a technique or method and is evident in the Japanese way of life. The belief of constant enhancement and mastering a certain craft is an obsession and is no exception in our artisanal production of world class eyewear.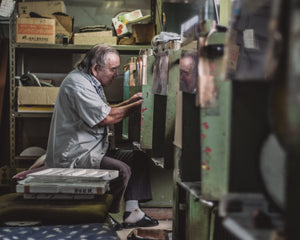 • • Try on
The • • Try On feature is coming soon. The worlds first web based AR software. This simple tool will allow you to try on all your favourite designs from the palm of your hand. Allowing the user to scroll seamlessly between different colours and designs. We are working very hard to bring this to you as soon as possible.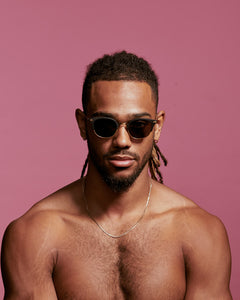 Orion
Orion - The Hunter
The worlds most renown constellation of the sky, Orion stands proudly amongst celestial bodies as the figure of strength. Depicted in the hero's lion skin, the hunter is a masculine embodiment of pride and success.
The Dot Dot Orion is a modern hunter, with his gaze on the future. The expanded browline style glasses give a nod to retro design, while Japanese titanium frames and polarised lenses ensure your style is impeccable and your eyes remain protected - no oracle required.
Material: Acetate, Japanese Titanium, polarised lenses.